"Don't even think about stepping into that house!" the 6'4″ drywaller barked at me as I approached the front door. I had been called out to look at the security needs of a second home in the mountains for a couple that lived on the other side of the country. Never having had a drywaller give me instructions like a project superintendent, I felt annoyed and asked the problem. "I'm just doing you a huge favor man." He said. "That house is a no-go zone unless you have a badass respirator and crawl suite! Black mold on every wall from the basement to attic."
Seeing as I did not have a respirator or a crawl suit handy, I thanked him and, tail between my legs, headed to the car, making a mental note to fill my van with recommended construction equipment for next time.
I learned later that the house had burst a pipe on the third floor during the first freeze of the season and the water ran for over a month. The house froze again and sat idle until spring when the homeowners decided to take a week off work and head to the mountains. I can't even imagine what went through their minds when they opened the front door. I am guessing that when Dante dreamed up the "Inferno," it was based off something that looked like this.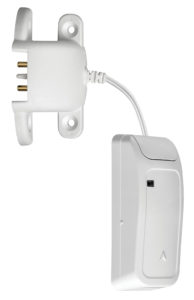 This catastrophe never would have occurred with just small part that costs less than $100. This little freeze/low-temperature sensor is the most undervalued alarm sensor in the industry. If you live in a cold climate and don't have one, do yourself a huge favor and get one. Moreover, you can add a water sensor (another undervalued sensor) to multiple areas in your home due to the high potential for water leaks. Upstairs washer dryer (any washer dryer), bathrooms, dishwasher, kitchen sink, water heaters, refrigerators, (especially the ones with tap water and Ice) sump pumps, these locations in your home are ideal for a discrete device that will tell the monitoring station to call everyone on your call list, (most importantly you!) that you have a water leak problem.
Many of my customers have said to me "Oh it's like insurance." My response: "No, it's much better than insurance. It doesn't partially pay for the mess after it happens – It prevents the mess before it even begins."