Security Cameras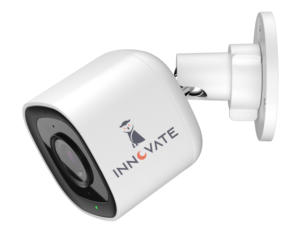 We have put our years of experience into selecting professional video security equipment that is encrypted, durable and easy to install at affordable prices.
How Innovate Selects Cameras for Our Systems
There are thousands of options for video cameras to connect to your security system. Innovate has extensively field tested and evaluated the options over our 25+ years of experience in the industry.
The cameras we select for our customers must meet all of the following requirements:
Ultra Secure and Encrypted
Camera system we have selected allow us to secure the video data for our clients so it will not be hacked.
Durable Equipment with 5 Year Warranty
Our cameras will hold up to whatever your environment can throw at it. We test our selected cameras in the extreme temperatures of Central Oregon to have confidence in Innovate's extended 5 year warranty.
High Resolution Video Quality in Day and Night
We select camera options that offer a wide field of view and high resolution imagery at any time of day.
Affordable Pricing
We have selected the equipment that offers professional grade quality and durability on all fronts while keeping the prices affordable for our customers.
Easy Installation
The components to our camera systems make it easy to install. This reduces labor costs for our professional installation options. But, our systems are so easy to work with you can even install them yourself with some simple tools!
Ability to Program and Pre-Network Before Shipping
When you order an Innovate Security System we spend time setting up the system before we get on site or ship the products to you for a DIY install. This reduces installation costs and delivers a plug and play option for DIY-ers.
Take Cameras With You When You Move
The systems we have designed offer allow our customers to easily add, control and move our systems should they need to relocate or modify the system.
Security Cameras Innovate Offers
Don't hesitate to reach out with any questions you might have about the products we offer.

Security Cameras and Video Monitoring
How broad a view do security cameras have?
This depends on the cameras type but we recommend security cameras with at least 120 degrees of view out of a 360 degree total.
Do motion lights interfere with cameras at night?
Motion lights can help cameras capture better night vision images and also increase the distance the cameras will view in the dark. They can also create a halo if not placed in the right spots relative to the cameras. We recommend the placement of the motion lights to be above the cameras. This placement uses the lens cover to avoid the light from the motion negatively interfering with the camera image quality.
Do gate security cameras require trenching?
In the past this was the case. Currently, if there is power at the gate, trenching is not necessary. If there is no power solar is an option that can be used instead.
Is it possible to have video security monitoring with no monthly fee?
No. In order for the backend software for the video to work, there is a monthly fee associated with our software powered by Alarm.com.
How Video Cameras fit into the security and automation platform we have designed.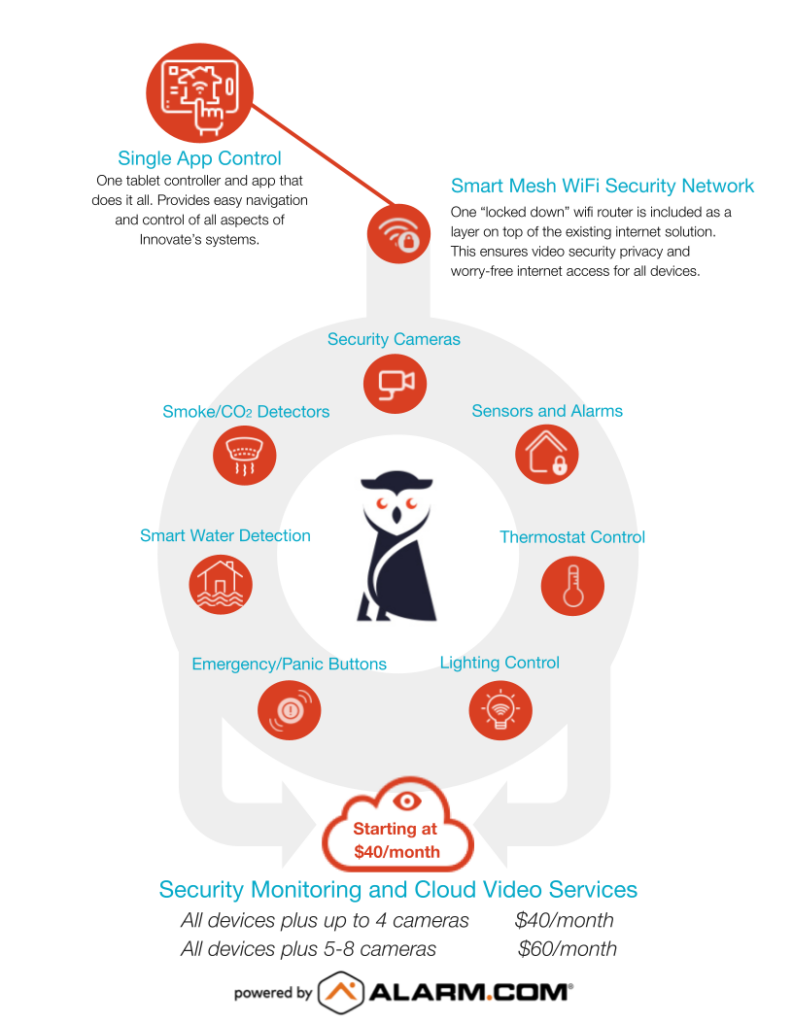 PNW Installation Services with DIY Shipping Options Nationwide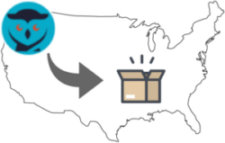 We are headquartered in Central Oregon but serve the entire Pacific Northwest with install or maintenance services. We can also ship pre-programmed systems and security cameras directly to you for DIY installations!